Arthur F. Powell, OBE
Memorial Celebration, 14th March 2009
Page 6 of 7 · Previous Page · Next Page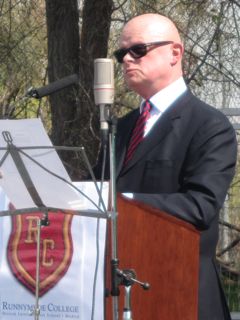 Mr John Cabrera
Mr John Cabrera
One Saturday morning, forty years ago, I was chatting, as I often did, with Arthur (Mr Powell, as he then was to me), at El Trebol – an equestrian centre. At some point, Arthur said to me, a propos of nothing, "You know, Lord Palmerston (a nineteenth century British Prime Minister), once said, 'The Schleswig-Holstein question is so complicated, only three men in Europe have ever understood it. One was Prince Albert, who is dead. The second was a German professor who became mad. I am the third and I have forgotten all about it.'"
He was always like that. Full of ideas or stories, sometimes humorous, sometimes serious, but always educational. I can remember many of the moments I first learnt something from Mr Powell. Even something as simple as the correct way to spell a particular word. I can remember specific instances, what Arthur was wearing, where we were standing or sitting, often over lunch with the Powell family.
Arthur told me that, as a young man, he had been a communist, but his thinking evolved and he became greatly impressed and persuaded by the work of John Maynard Keynes, in resolving the Great Depression of the 1930s. And, in my last conversation with Arthur, over the phone, last December, I said to him that, once again, the world was turning to his great hero for a solution to yet another economic catastrophe. Arthur was pleased to hear that and I think it is fitting that, at the time of his passing, the beliefs Arthur shared with Keynes may once again rescue us all.
Arthur knew many things. He was the wisest man I ever knew. He had a tremendous sense of fun. He was a superb pianist. When we were at Jose Rodriguez Pinilla, Runnymede's very first location, I have fond memories of hearing Arthur's playing cascading down the stairwell. It was often Chopin's Funeral March and it lent an eerie atmosphere to the school. But, Arthur also had a light touch. He once taught me the words to a Frank Sinatra song, "I couldn't sleep a wink last night". Don't worry; I'm not going to sing it.
Moving to Runnymede was an initially painful transition for me. I had previously spent five years at the American School of Madrid and had, at least culturally, become very American. British ways seemed alien to me. But Arthur and Julia understood this. And, with love, they guided me through my three years at Runnymede. Their love has sustained me all my life. I return that love in equal measure. And, I am not alone. All of us here are bonded together by love.
Life will never be the same again. I miss Arthur more than I can express.
Some of you may remember a show, we put on one Christmas. The show was a review and we struggled to find a name for it. Arthur came to the rescue and called it, "The Runnymede Revels". You can see the words to the Runnymede Revels song on the school's website. And, don't worry, I am not going to sing that either.
However, as my last gift to Arthur, I want to conclude with some of Prospero's lines from "The Tempest".
Our revels now are ended. These our actors,
As I foretold you, were all spirits and
Are melted into air, into thin air:
And, like the baseless fabric of this vision,
The cloud-capp'd towers, the gorgeous palaces,
The solemn temples, the great globe itself,
Yea, all which it inherit, shall dissolve
And, like this insubstantial pageant faded,
Leave not a rack behind. We are such stuff
As dreams are made on, and our little life
Is rounded with a sleep.
Page 6 of 7 · Previous Page · Next Page