Arthur F. Powell, OBE
Memorial Celebration, 14th March 2009
Page 3 of 7 · Previous Page · Next Page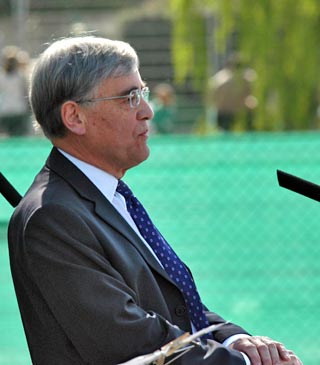 Mr Anthony Blake
Mr Anthony Blake
It is a great honour for me to be asked to speak on behalf of Arthur's English relatives
Four of us relatives have flown out from England to this memorial. With me are Arthur's cousin Yvonne, my cousin Richard and my wife Marion –and we are so glad to be sharing the occasion with you.
Arthur was the youngest of three children in a family who lived at New Malden –on the outskirts of London. His father was initially a barrister –and later a Stipendiary Metropolitan Magistrate– and he had a brother –Leslie– Richard's father– and a sister –my mother– Joan –both no longer with us.
I am indebted to Yvonne and her sister Moira for their recollections of those early years. They would spend Christmas together at Arthur's parents' house, and often go on holidays together –which in those days, before package holidays, meant Margate– or –if they wanted to go overseas, it was to Shanklin on the Isle of Wight. How things have changed! But above all, the cousins' recollection is of a very happy family.
Yvonne particularly has a recollection of one Christmas when she was very small. The family wanted to create a bit of excitement for their young cousins. Arthur's father –my grandfather– dressed up as Father Christmas and they persuaded Arthur, probably aged about 13, to dress up as a fairy. Yvonne really believed that he was one –until he picked up a poker and spoke, which broke the spell for her!
Arthur had a great love of music –something he had inherited from his mother's side of the family. He was sufficiently enthusiastic that his father bought a grand piano –which I remember took up a big space in their house at New Malden. When his father died, he left this piano to Arthur in his will, and such were Arthur's fond memories of this piano that he paid to have it transported to Madrid, when it would probably have been much cheaper to have bought a new one here!
His time at school was not the most successful part of Arthur's life. My late mother, like the rest of the Powell family, was a good story teller, and I don't know if is true that Arthur failed every exam he took - but it didn't go well, which is maybe very surprising bearing in mind his incredible achievements since then. But I guess that even in those early days, Arthur was learning that the conventional teaching methods of the day were not necessarily the best, and he was forming his own views as to the best ways of teaching. In which case you could say his schooling was very successful!
In any case, after Tiffins, he decided that he would like to go to art school. His father was against this idea - art schools were often thought of as "dens of iniquity" –but Arthur got his Uncle Leslie, Yvonne's father, to support him– and he was allowed to go to the Wimbledon College of Art.
The Second World War came at an important stage of Arthur's development. He was only 15 when the war started, and although his parents' house had an air raid shelter, his mother had great trouble keeping him inside, as he wanted to see the planes and the air raids!
And it was his love of planes that led him to volunteer to join the Air Force when he was old enough. As with many young men of that age –a rebel streak was developing– and Arthur volunteered to be a rear gunner in a bomber, which was just about the most dangerous job you could have. But mercifully they realised his potential and he was sent over the Atlantic to train, and although he was never involved in active combat, my mother told me that he was once in a plane which lost engine power, and Arthur miraculously saved it from crashing at the last moment. When I asked Arthur about this, he had no recollection. Whether it was his modesty, or my mother's imagination, I don't know! I suspect Arthur's modesty.
After the war, Arthur resolved to work really hard. His rebellious phase continued, he had learned by then that languages were his forte, and he studied Russian, which was not the sort of thing that conservative British people did at the time.
It was around that time that –as a young boy– I have my first recollection of him, as a tall, bearded, blonde man –who was very handsome (or so my sister said!).
There was the question of where he should live. His father was a strong character –and did not always approve of everything that Arthur did, which I think Arthur found a bit trying. I wouldn't say Arthur didn't get on with his father, but I think he decided he would get on even better if they lived in different countries! He decided to work in Italy and Spain.
And so, for many of us in England –Arthur was the far off son, brother, uncle or cousin. He and Julia would come over every year to recruit, staying at the Spanish Club in London, and they would always try to see the family when they were there. And the visits were always enjoyable. Speaking as a nephew, I found that he would speak to me, not as an uncle, but as an equal. He was always interested in what we were doing.
He had a dry wit, which he inherited from his father, and which he brought out from time to time when family relationships were strained. He loved having visits from his English relatives, but he could never persuade my father to come to Spain, which made him rather sad, and my father's excuse was that there was still a lot of England he wanted to see! And from time to time, Arthur would sidle up to me and ask "Has your father seen all of England yet?"!
One of Arthur's qualities was his generosity. Those of us who came to Madrid were entertained most generously and unselfishly. Particularly after his retirement he gave us a lot of his time, and we were well looked after. It made us feel very humble.
He was such a modest man, too! It was only when many of us came to Madrid that we realised the enormity of what he had achieved with Julia in creating and developing the school. In England we have a joke, that behind every successful man is an astonished woman! Not so in this case. We are only too aware, as a family, that if Arthur had not met and then married Julia in the 1950's, he would have not been able to do what he has done.
But it is as a person rather than a headmaster that his English relatives will remember him. His charm, his wit, his generosity. We shall miss him very much, and, speaking personally, I am proud to say –Arthur Powell was my uncle.
Page 3 of 7 · Previous Page · Next Page